Glossary of Pollination and Ecological Terms
Illustration of the parts of a flower: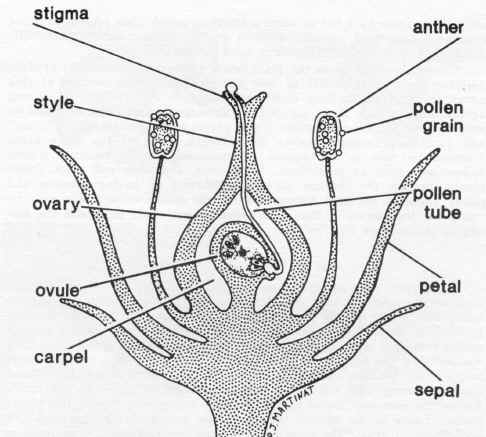 Cross section of a typical flower from "Pollination for the Home Gardener," by Howard Veatch
(Published by Dadant and Sons, Inc. Hamilton, IL 62341 -- Permission to reproduce granted by Nick Dadant.)
The sepal is one of the scales that forms the calyx, the outside covering of the bud. Inside the calyx are the petals, variously formed and colored, which have two functions - protect the inner parts of the flower from damage until pollination can take place and attract bees or other pollinating agents to the inner parts of the flower. Next come the stamens or the male parts of the flower and on top of each stamen is a sac-like anther which produces the pollen grains. When the pollen grains are mature, the anther opens and the pollen is discharged. The pollen is transferred from the anther to the stigma, the sticky end of the pistil, or innermost part of the flower.
Important Words to Know About Polination:
anemophilous
anemophily
anther
biodiversity
entomophilous
entomophily
ovary
ovule
pistil
pollen
pollination
pollination service
pollinator
stigma